********* Latest Release is NOD32 Offline Update 6686 (20111205) *********
This fix will works for
NOD32 Smart Security v3.0.xxx (all versions)
NOD32 Antivirus v3.0.xxx (all versions)
NOD32 Smart Security v4.0.xxx (all versions)
NOD32 Antivirus v4.0.xxx (all versions)
NOD32 Smart Security v4.2.xxx (all versions)
NOD32 Antivirus v4.2.xxx (all versions)
How it Works
This fix is whom those don't have internet connection to update their virus guards.
The nod32 offline update fix is fully automated.
All you have to do is disable self defense
option is eset antivirus settings.(
how to disable self defense
)
NOD32 Offline Update will create a folder in your %SystemDrive% and , put the latest virus definitions and module files in it (delete older files if present) then change the update server details in the registry; (no manually setting up server) so all you have to do is click "update" in NOD32.
NOD32 Offline Update 66xx will update the following:
Virus signature database:
Advanced heuristics module:
Anti-Stealth support module:
Archive support module:
Update module:
Cleaner module:
Personal firewall module:
Antispam module:
Antivirus and antispyware scanner module:
Update to NOD32 Offline Update 6686 (20111205) from bellow.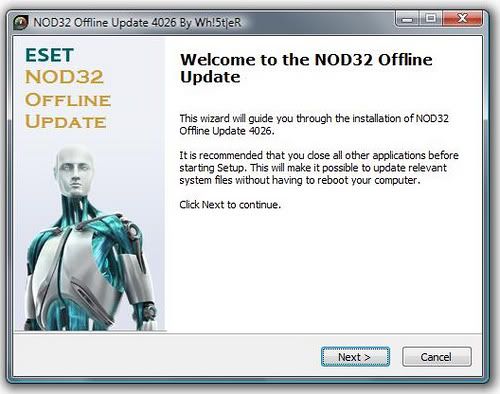 RAR File MD5 Hash:
7EC2A069CB5EEFEEFC649A69779E4C22
nod32 key